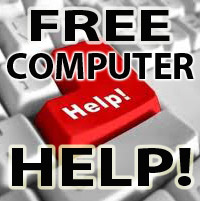 Do you have a computer, Photoshop, browser or web problem? Is there something you want to do, but don't know how? We are experts in many areas including computers, Windows, and most browsers. We can help you with Software for music, Video, Html. We use many Adobe programs. Give us a try! You can't beat the price.
We want to help you, all we ask in return is for you to help us promote our language learning site by passing cute wall posts through email, facebook and twitter. We are a small start-up company using creative means to reach a greater audience. Thank you. When we help each other we all win!

FREE does not mean we are offering ourselves as slaves. Many problems can be resolved quickly. If you have problems that require a great deal of time we will give you a reasonable quote. Thanks
By agreeing to share our ads with your friends you are under no obligation. You can stop at anytime. This is a free-will agreement. A joint venture into helping each other.
Just post your questions in the comment box below and we will post the reply.
Thanks Brian Thomas