Knowing that creative lessons are the ones that stick, José Picardo gets his Spanish class to write and produce their own virtual stories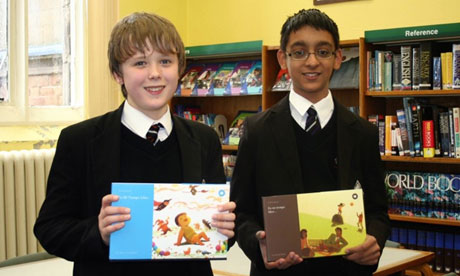 My fondest memories of school are of the occasions when I made stuff. When I think about what other aspects of my learning I enjoyed most, I always come back to the basic principle of creativity. Getting me involved in creative tasks that result in tangible outcomes was one of the principal ways in which my teachers ensured that I remained engaged and enjoyed the process of learning.
Technology today gives us the tools and the possibility to enjoy making stuff and exercise our pupil's creativity in new ways; now you can make stuff virtually as well as actually. My classes and I exploit these new possibilities by regularly embarking on projects which require exercising creative skills and, in so doing, allow us to go far beyond the confines of the curriculum and the walls of our classroom.
This lesson comes at the end of a sequence of lessons in which we have been learning about free time activities and daily routine. The boys in my year 8 class and I decided to write an electronic book in Spanish using a web-based tool called Storybird that allows children to write and publish their own books in a safe online environment.
The objective was to put to practice all the language we had been learning in the preceding sequence of lessons, trying to use, where possible, more complex structures and a greater variety of vocabulary, in order to consolidate existing knowledge. The first half of the lesson required that the pupils collaborated in pairs or small groups in the drafting and redrafting of the work until each pupil and I were satisfied with the outcome.
In the second half of the lesson, pupils explored and chose from the illustrations within Storybird and redrafted their work once more to adapt it to their chosen artwork. Pupils are generally encouraged to complete the work during the lesson. However, as Storybird is available online, they are also given the opportunity to continue working on their book from home.
Once their books are finished, generally by the next lesson, I publish their work on our subject blog so that it can be further exploited through peer assessment and review, using the blog site's comments facility.
Engaging in activities which pupils see as having a concrete and practical outcome, such as writing electronic books, allows them to be creators of something unique, of which they have ownership. Because the work is carried out and published online, new possibilities of peer and self-assessment emerge in which pupils can interact with others through our subject blog. This way, conditions are created in which they can learn from one another safely, in a moderated environment.
Pupils engaged openly in discussing the quality of the Spanish language they had used in their electronic books, telling each other what was good but also what could be improved. In addition they are also telling me, their teacher, whether they had understood the concepts and structures we had studied in previous lessons, allowing me to assess their progress and plan future lessons accordingly.
An extra advantage of carrying out projects like this is that permanent evidence of progress and achievement is obtained, which can be then shared with parents, line managers or school inspectors. With this particular work, I can demonstrate that my pupils are able to use an increasingly wide range of vocabulary and apply more complex sentence structures in the target language.
On this occasion, this extended writing exercise became a competition to find the best electronic book which would, as a prize, be turned into an actual book which would then be added to the school library. The competition was won by our pupils Mukul and Harry whose work was deemed to be exceptionally good by me and their peers and, through Storybird, was published, not only online, but also as real books. Not bad for a tangible outcome. Their first book in a library. Hopefully the first of many.
You can view Harry and Mukul's online book here.
José Picardo is the head of modern foreign languages at Nottingham High School and also advises on the use of emerging technologies in the classroom.