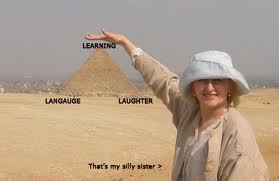 First and foremost I am a musician and artist. I have always considered my-self a problem solver.
For me language learning did not start until I was in my fifties. I did not take foreign language in school.
Like many people I purchased several language learning programs but never really found a logical way to learn.
I did stumble upon a word game similar to what I use on my site.  It gave me a way to learn many words each day. It solved the problem of remembering the words.
The philosophy that you have to learn a new language as a child is crazy to me. It's like saying now that I know basic math, I need to learn it again before I can learn Algebra. You already know how to use a language.
The problem of learning a new language is two-fold. First you need to learn words in the new language. You exchange the words you know for words that mean the same thing in your new language. Remembering the words is everything.
The second most important part to language learning is staying motivated. Simple as that!
My language learning plan is simple. Learn the 100 most common words first. Who, what, where. when, why, and how are some of the first lesson. Great one word questions.  The words you learn first can dramatically speed up your ability to communicate.
Now to learn the words is not the same as to remember them. That's where my word game is so effective. You learn words from repetition. The same way you learned your first language.
So as my story goes I made this website it took 4 years. I started to advertise and I realized there was another problem to solve, Motivation. How do I motivate people to learn.
I came up with a Facebook like timeline. A living "Report Card" of your efforts. You don't get grades but you see everything that you do. You also can earn free credits for being a good student.
So an interesting thing happened. I had to test the new pages. Now most of my Thai learning happened a few years ago. Because of my website work I have not studied work in a long time.  So I went to test the page and I did lessons 1 to 30. That's when I began to experience a very different level of speaking Thai.
It's the same as a muscle if you don't use it you loose it.
The experience of reviewing all my words at one time taught me to think of learning words like laying wood chips on a pools surface. Your word memory pool. If you don't pick the word out of the water now and then it begins to waterlog and sink. The longer you don't use the word the deeper it sinks. It's the same in your native language. Words seldom used are difficult to remember.
I found that by refreshing my Thai all at once in my word game I could draw on many more words when speaking and listening to Thai. I knew the words at one time but reviewing them all at once had an amazing effect on my Thai. I can do 15 lessons in one game so it only takes me one hour of study to do 30 lessons.  I will keep doing it because I found it so helpful. There is no better motivation for language learning than experiencing success. When you are able to speak and understand a new language, it is truly an exciting experience.
Click here to sign up for a free trial of the World Word Exchange.